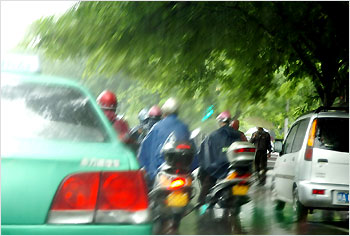 I've spent the last couple of years quietly gloating to myself about the fun I have driving my scooter to work, and chuckling inwardly (ok, sometimes not so inwardly) when gas prices rose to near $3 a gallon, whileI was getting 80 mpg on my Kymco ZX50 Super Fever.

But the whirligig of time brings in his revenges, and this afternoon I had to drive home in 30 mph winds and 38-degree-Fahrenheit driving rain.

Do you know what cold raindrops feel like when they hit your face at 60 mph?

Flying needles!

*The headline quotation is from Disney's Pinnochio, when the boys on Pleasure Island are turned to donkeys.